The Cotswold range of Bulk Tank Washers are designed for use on open top ice bank tanks and also enclosed and open top DX tanks
Overview
The Cotswold range of Bulk Tank Washers was originally designed for use on open top ice bank tanks but with the introduction of the hot wash versions, they can now also be used on enclosed and open top DX tanks. The 500 models are suitable for bulk tanks up to 2270 litres and the 1000 models up to 4500 litres, or two tanks of up to 2270 litres.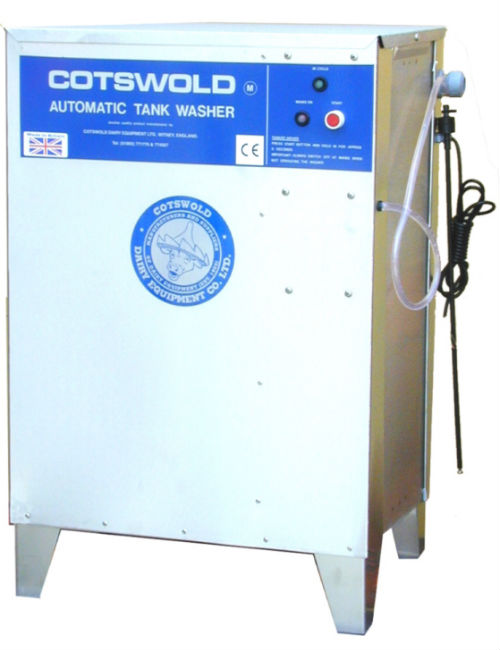 Product Features
Stainless steel cabinet with heavy duty polypropylene tank.

Floor standing.

Requires only a 13 amp power supply.

Built in water tank means they will work even in dairies with poor water pressure.

Control has a variety of wash settings to suit individual situations.

Adjustable chemical entrainment using iodophor or phosphoric acid.

500 models have a single pump, a 68 litre water tank and come complete with two Mexican hat plastic sprayheads.

1000 models have twin pumps, a 100 litre tank and come complete with four Mexican hat plastic sprayheads.
OPTIONS AVAILABLE

Hot wash with built in heating element and thermostat (max temp 50° C available on all models)
Hypochlorite final rinse (available on all models)
Stainless steel heavy duty sprayheads (available at extra cost and recommended on hot wash models)
The 1000 models, all types, can also be supplied with a three position switch, where two tanks of 2270 litres or less are being washed together or separately, at certain times of the year.
Supplied as standard with 2 spray heads
Will operate up to three spray heads
68 Litre water tank
To wash tanks up to 2279 Litres (500 gallons)
Supplied as standard with 4 spray heads
Will operate up to six spray heads
100 Litre water vessel
To wash tanks up to 4,500 litres (1,000 gallons)
Max temperature 50 degrees C
3 KW Stainless steel heads recommended
Recommended for DX tanks
Additional chemical entrainment solenoid
Sanitising chemical added to final rinse water
Mandatory in some areas
Recommended where bore-hole water is used
View Product Specification & Order Details
BULK TANK WASHER SPARES & ACCESSORIES