STANDARD DAIRY WATER HEATERS
Stainless Steel Outer Cabinet

Stainless Steel Water Tank

Dual outlets on 70 gallon and larger, allowing two washes between re-heat cycles

1½" BSP outlets up to 120 gallon, 2" on 150 gallon and larger

Stainless Steel Immersion heater element

Unique Cotswold stainless steel float switch

Massive Savings in Electricity Costs:  Our heaters are equipped to heat up during the "off-peak" period, saving up to 75% of electricity costs. Provided with very high quality Insulation for maximum economy, essential in light of increasing electricity prices. They also have a digital controller, incorporating dual time clocks, to control heating and filling and to maximise electricity savings by heating during economy 7 periods.
PRODUCT SPECIFICATIONS
Space-saving, square, open-top heaters with full all-round insulation including lid and base

Standard inlets and outlets are on the right side of the heaters, position can be adjusted, please request on order placement

Long life, corrosion resistant, stainless-steel outer skin

Rigid stainless-steel inner vessel

Stainless Steel Elements*

Separate control box allows remote mounting

High quality polyurethane insulation

Water temperature is controlled by a rod thermostat.  Water temperature is shown on a front-mounted dial thermometer.  An indicator light in the control box shows when heater is working

Fast-draining 1½" BSP water outlets up to 120 gallon (2 " BSP outlets on 150 gallons and above)

All models have stainless-steel float switch under full timer control

Each controller has 2 easy-to-set analogue time clocks with batter backup:  One clock controls the heating elements and the second controls the water inlet solenoid, so that water for both washes can be heated overnight using off-peak electricity.  This gives appreciable savings, and also allows prevention of dilution of any remaining hot water in the tank by the ingress of cold water

Larger heaters (over 60 gallons) have dual outlets allowing the heater to be half-emptied without refilling to easily cope with two washes per day

Water Heaters are also available with side mounted header tank instead of float switch and solenoid fill, at no extra cost

We can manufacture non-standard sizes to customer's exact requirements

Water heaters can be supplied with a variable level stainless steel float switch. This allows the amount of water to be heated to be changed very easily.
*Stainless-steel elements are NOT immune to build-ups of lime-scale or attack by water-borne acids.  In some areas local areas water treatment may be necessary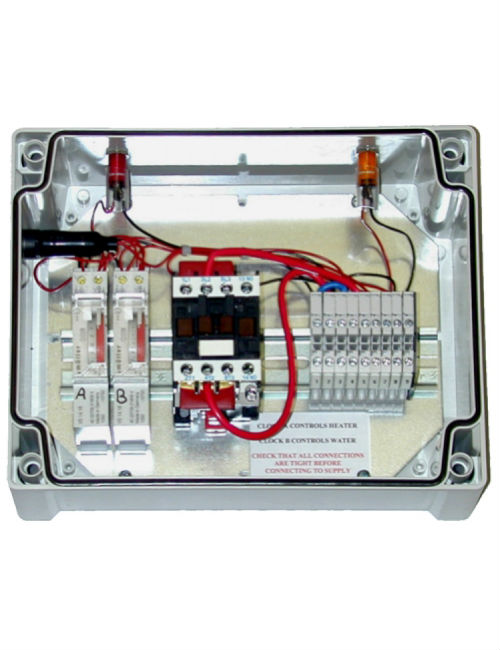 ESSENTIAL INSTALLATION INFORMATION

Cotswold Water Heaters are fitted with mounting bars but due to their weight when filled, support from underneath is also necessary. Load bearing stands for all models are available from Cotswold. When heaters are installed in a loft, please ensure that adequate support for a fully filled tank is provided.

Our water heaters normally empty under gravity, therefore the water outlets should be above the water trough unless it is intended to empty the water heater using the plant vacuum or a pump.

In hard water areas, it is essential that a scale preventer and a water strainer are fitted. These help prevent scale forming inside the water solenoid valve and around the heater element. The cost of these inexpensive devices will soon be recovered from reduced electricity and repair charges. Claims under warranty for damage or failure caused by hard water and/or installation of the equipment to an unsuitable water pressure will not be accepted unless the user has taken sensible precautions. If you are in doubt please speak to Cotswold or your dealer.

The cold water inlet is controlled by an electrically operated solenoid valve suitable for water pressures up to 150 PSI, (10 bar). Above this, please ask at the time of ordering and we will supply a water heater with an alternative valve suitable for the pressure specified.
View Standard Dairy Water Heater Products
STANDARD DAIRY WATER HEATER
WATER HEATER SPARES & ACCESSORIES
WATER HEATER STAINLESS STEEL ELEMENTS