AUTOMATIC CLUSTER FLUSH
The Cotswold Automatic Cluster Flush process is fully automatic, with individual unit flushing being initiated by the cluster remover on swingover herringbone and most other parlours and whole side flushing by the vacuum gate controls, on doubled up herringbone parlours. Doubled up herringbones can alternatively be operated by a separate push button (one per side) if required.
Once it is activated by the vacuum signal, the cluster flush control module completes the cycle of two flushes, (water and peracetic acid 0.5%) leaving the cluster ready to put on the next cow. We now have a compressed air operated automatic cluster drop valve available, as an option, which allows the ACR ram to lower the cluster when flushing, thus aiding drainage.
The unique liquid/pressure cylinder, designed and manufactured by Cotswold, means that unlike other systems on the market, no water/peracetic acid mix goes through the solenoid valves, only compressed air. This makes for a much more reliable system and cuts down on expensive solenoid valve replacements.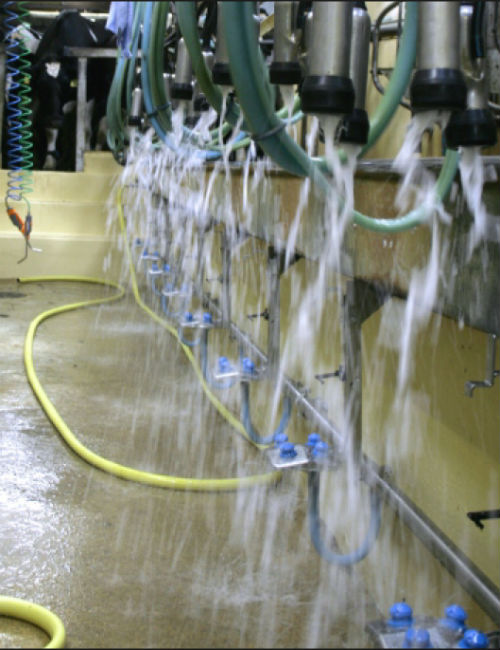 Product Features
Quick and easy to install.

Adapts to most manufacturers systems.

Vigorous flushing action effectively sanitises milk tube, claw and liners.

Unique pressure-cylinder system, giving consistent volumes of water and pressure of the entire installation.

Unique anti-syphon valve system effectively preventing water/chemical mixture being sucked into milk line.

Versions for swing-over parlours, high-level and low level double-up parlours, and rotary parlours.
The Cotswold Automatic Cluster Flush system is available for swing-over, doubled up and rotary parlours.
The basic function of the unit is as follows:
350 ml Pressure vessel at each milking unit
Gravity filled with 0.5% per-acetic solution
Connected to milk hose by Y piece
At the end of milking compressed air forces the flushing solution out of the vessel, through the milk hose and through the cluster
The Pressure vessel refills with flushing solution by gravity from a header tank
The vessel is then flushed out again by compressed air, a longer air blast this time has a drying function
Compressed air is controlled through a timer and solenoid
Basic function in a Swing-Over Parlour
Individual flushing of each cluster

Flushing sequence initiated by vacuum to ACR ram

No wiring to meters or ACR controls

Complete Flush sequence 15 to 30 seconds

Cluster quickly available to milk next cow
Basic function in a Doubled Up Parlour
Cows milked and sprayed before flushing

Complete side flushed together up to 24 x 24

Clusters flush as cows exit the parlour

Flushing initiated from exit gate controls

No electrics in the parlour
Basic function in a Rotary Parlour
Individual flushing of each cluster

Flushing sequence initiated by vacuum to ACR ram

Complete Flush sequence 20 to 30 seconds

Cluster quickly available to milk next cow

No wiring to meters or ACR controls
View Automatic Cluster Flush Products
Automatic Cluster Flush Spares & Accessories